Diary of Events
The events listed here are for your information and enjoyment and are provided in good faith. They may be cancelled or altered by the organiser which is out-with our control. We recommend that you check with the venue/their website for full details.
Due to the changing covid-19 restrictions, please use the hyper-links provided for each visitor attraction, venue and event – they are updating their own websites with information regarding opening times, booking requirements etc. This will give you the best picture of what is on offer at the time of your stay at Kirkton Cottage.
Border Common Ridings – Summertime
Unfortunately due to ongoing restrictions imposed for the Covid-19 pandemic, most of the Borders Common Ridings have been cancelled for 2021.
Border Common Ridings and Festivals run throughout the summer each year where towns mark local traditions by 'riding the boundaries' on horseback. There is a lot more history to these than might first meet the eye, here is a link that may better help you understand what is going on…..
http://www.bbc.co.uk/news/uk-scotland-22871776
---
Your ticket to Scotland's history
Free admission to over 70 of Scotland's top visitor attractions is yours with an Explorer Pass.
Buy an Explorer Pass valid for 3 days or 7 days and visit as many Historic Environment Scotland properties as you wish within that time – for no additional cost.
A 3-day pass can be used on any 3 days within a 5-day period. A 7-day pass is for any 7 days within a 14-day period. Multiple sites can be visited on any single day.
You can visit a specific site only once.
For sites throughout Scotland :
For sites in the Scottish Borders only :
---
Scotland Starts Here is a free app that helps visitors explore the region, learn its myths, legends and songs, and find the right itineraries for great experiences.
The Scotland Starts Here app is free to use and can be downloaded from the App Store or Google Play store.
2021
 Kelso Farmers Market – The Square, Kelso
Now up and running again on some Saturdays. Please click the link to check for dates.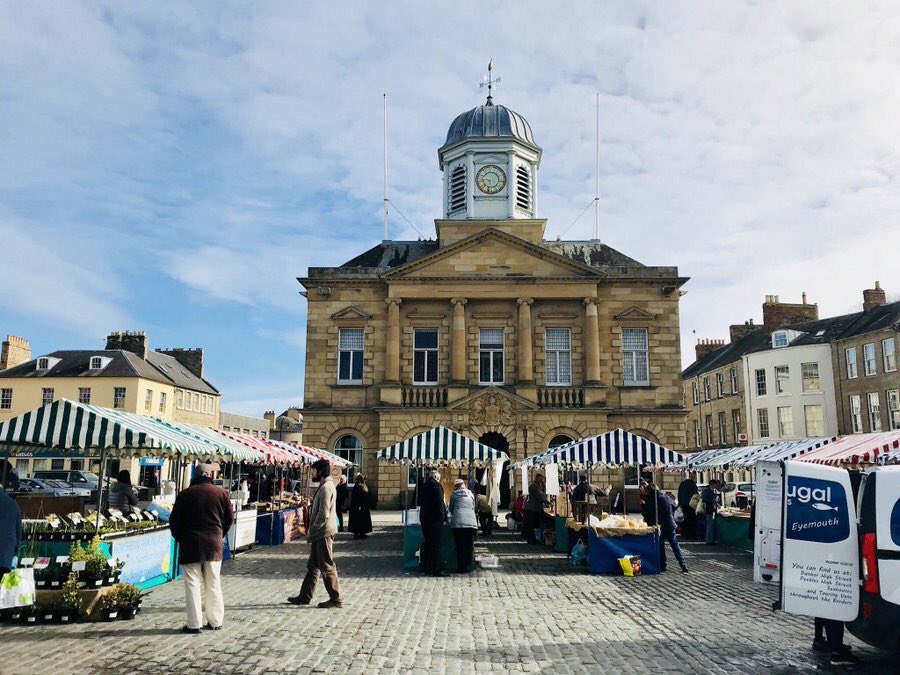 Held on the fourth Saturday of the month in Kelso Square from 9.30am till 1.30pm.
Range of Local Produce from the Borders on offer:
Aberdeen Angus beef, pork and bacon, venison and wild game, free-range chicken, savoury pies, pates, fresh and smoked.
With brand new stalls and up to 18 local producers attending the market each month, there is an outstanding range of fish, olives, fresh bread (continental and traditional recipes) scones and cakes, desserts, jams, honey, chutneys and preserves, Scottish cheeses and butter, free-range eggs, wide range of fresh vegetables, home-made ice cream, fudge and tablet, ciders, ginger wine, hand made jewellery, soaps and body care products, knitted and hand-crafted items, garden plants.
https://www.facebook.com/KelsoFarmersMarket/
---
Why not book for a festive stay at Kirkton Cottage!
---
21st September 2021 – Book Event – The Barn, Main Street Trading, St Boswells – Author ANDREW GREIG
Rose Nicolson Memoir of William Fowler of Edinburgh : Student, Trader, Makar, Conduit, Would-Be Lover in Early Days of Our Reform
Event:     Andrew Greig in conversation talking about his new novel, Rose Nicholson
Date:       Tuesday 21st September, 7.30pm
Tickets:  £8 (includes a glass of wine)
Venue:    This event will be held LIVE in The Barn, The Mainstreet Trading Company, TD6 0AT. Capacity will be limited to current social distancing rules, so please book early to avoid disappointment.
Book your ticket online here or telephone the shop on 01835 82408
Thursday 30th Sept 2021 – The Barn, Main Street Trading,  St Boswells – Author JESSICA ELLIOTT DENNISON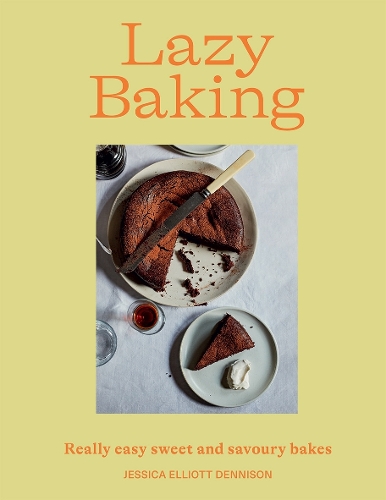 Lazy Baking: Really Easy Sweet and Savoury Bakes
Think one-cup pancakes for breakfast, sausage rolls for lunch, grapefruit drizzle loaf to fix that afternoon craving and impressive baked crispbreads for wine.
There are also plenty of tips scattered throughout, including ideas of what ingredients can be substituted or how to fix issues that might occur.
This recipe book is perfect for anyone looking to whip up modern and fresh treats, which are both foolproof and rewarding, and guaranteed to impress thanks to all the clever, useful hacks.
Event:
      Cookery Demo with Jessica Elliott Dennison
Date:
        Thursday 30th September, 7.30pm
Tickets:    
£20 (inc. 1 x ticket and a copy of Lazy Baking)
£30 (inc. 2 x tickets and a copy of Lazy Baking)
Venue:
      This event will be held in the barn at The Mainstreet Trading Company,
St. Boswells TD6 0AT. Capacity will be limited to current social
distancing rules, so please book early to avoid disappointment.
Book your ticket online here or telephone the shop on 01835 824087
---
4th – 5th October 2021 – new dates
Border Union Championship Dog Show, Kelso
Border Union are very pleased to announce that we are bouncing back in October. The Kennel Club have kindly granted us permission to hold our Ch Show on the 4th and 5th October, with the group split as it would have been in June, i.e. Gundogs, Hounds and Terriers on the 4th and the Working, Pastoral, Utility and Toys on the 5th. This obviously is dependent on permission from the local council and Public Health Scotland and the restrictions that may be in place at the time of the show.
Updates and further info will be posted here and on the Border Union Dog Show Facebook page, as well as on the Fosse Data website and the Border Union website. We look forward to seeing everyone again in October.
Almost 6,000 dogs compete over two days
Over 200 breeds on display, including many well-known Scottish breeds such as the Golden Retriever, West Highland White Terrier, Rough Collie and Shetland Sheepdog
The opportunity to see the two breeds native to the Scottish Borders 
Dogs competing for a spot at the world famous Crufts dog show, to be held next March.
More than 50 trade stands selling all things 'doggy'
'Spectator dogs' welcome
Almost 6,000 dogs from over 200 breeds will be descending on Springwood Park in Kelso for the popular Border Union Dog Show – one of the largest events of its kind in Scotland as well as in the UK.
The show will see dogs and their owners from all over the British Isles and beyond compete in a bid to qualify for the world's biggest dog show, Crufts.
The pedigree dogs taking part will be judged on a number of factors in the ring, including temperament and that they are fit, healthy and happy dogs that are good examples of their breed, as they compete for the ultimate 'Best in Show' prize.
The show is one of the largest gatherings of dogs in the UK and will see rare native Scottish breeds competing, such as the Dandie Dinmont Terrier, Smooth Collie, Gordon Setter and Skye Terrier.
These breeds are bred in such small numbers today that they are considered by the Kennel Club to be at risk of disappearing from Scotland's streets and parks.  Alongside these breeds will be some of the more well-known Scottish native breeds such as the Golden Retriever, West Highland White Terrier and Rough Collie and Shetland Sheepdog. 
The show is perfect for families researching the right breed of dog for them, and visitors will be able to meet the dogs themselves as well as talk to experts in each breed about finding a good breeder, what to expect from the breed, and training and care requirements.
The show is one of 37 Group and General Championship Dog Shows licensed by the Kennel Club throughout the year, which enable dogs to qualify for next year's Crufts.
 www.buas.org/dogs
---
Tuesday 5th October – Live Book Event – St Boswells Village Hall- Author JAMES HOLLAND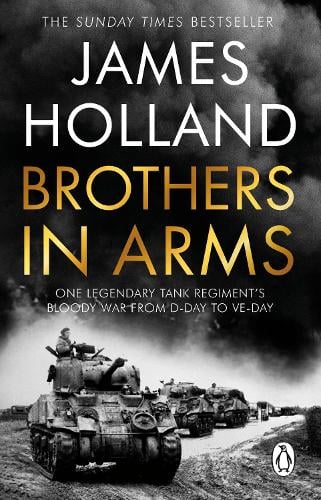 Brothers in Arms: One Legendary Tank Regiment's Bloody War from D-Day to VE-Day
Event:     James Holland talking about his new book, Brothers in Arms
Date:       Tuesday 5th October, 7.30pm (doors open 7pm)
Tickets:   £7 ticket only
£22 (inc. 1 x ticket and a copy of Brothers in Arms)
£30 (inc. 2 x tickets and a copy of Lazy Baking)
Venue:    This event will be held in St Boswells Village Hall, St. Boswells TD6 0AA.
Capacity will be limited to current social distancing rules, so please book
early to avoid disappointment.
Book your ticket online here or telephone the shop on 01835 824087
---
2nd – 7th November 2021 – new dates and venue
BORDERS BOOK FESTIVAL 2021 – Abbotsford House, Galashiels
Having previously shifted our dates to September, we're on the move again! Abbotsford House in the Scottish Borders, the home of Sir Walter Scott, will stage this year's festival in its grounds as part of the 250th anniversary celebrations of the life and work of Scotland's greatest writer. Our dates have also nudged further into the autumn to give us the best possible chance of welcoming our authors and visitors back safely.
We look forward to seeing you in November.
---
Edinburgh's Christmas 2021
20th November 2021 – 1st January 2022

From
20th November 2021
to 1st January 2022
World-renowned Edinburgh's Christmas celebrations spread the festive cheer across the Scottish capital between 20th November 2021 and 1st January 2022.
No trip to the Capital is complete at Christmas without a visit to the world famous The Dome, 14 George Street, Edinburgh -it books up really quickly for lunches and dinner on the lead up to Christmas so make sure you book in advance to sit amid the spectacular Christmas Tree (above) and famous festive decorations.They will be fully festive from the 1st of November and their diary is now open for bookings. In fact, it takes nearly half a million lights to give The Dome its Christmas sparkle and the annual transformation is the result of hundreds of hours of work by dozens of people.
For details of everything thats on click the link below:- From events at Edinburgh Zoo to performances of The Snow Queen at the Lyceum Theatre to the Sleeping Beauty Panto at the Kings Theatre – all things festive in and around Edinburgh are listed here:-
31st December 2021 – Peebles Hogmanay Torchlight Procession event tbc
This Hogmanay, a magical parade of fire will shimmer its way through the beautiful streets of Peebles, bringing warmth and fun to the cold winter night. Carry a torch for charity and join us for a special start to the Hogmanay celebrations – it's perfect for families, friends, couples, visitors – everyone!
The procession promises a spectacular start to everyone's Hogmanay celebrations with its magical parade, music and local food and drink.
We look forward to bringing sparkle to Peebles this New Year's Eve with you and your family!
https://www.peeblestorchlight.com
---
Looking Ahead to 2022
26th – 28th March 2021 – Reivers Festival, Hawick –

Online event due to Covid-19
Step back in time to the mid sixteenth century when the Borderlands were an area of constant feuding – when loyalties were to kinship rather than king and country and when "Reiving" was a means of survival.
Through music, drama and re-enactments experience what life was really like for the men and women in the Border Marches.
Hawick Reivers Festival aims to help visitors and townsfolk alike Experience, Explore and will endeavour to Explain day to day life in this violent and turbulent period of our history.
Fiercely loyal and independent, hard-working and prepared to fight for what they believed in these men and women of the 1500's did much to shape the character of the modern day Borderers.
---
June (usual month for hosting this event)
Borders Book Festival, Melrose
Come and enjoy five days of Borders Book Festival Fun
A firm favourite – book early to avoid disappointment!
Things to See and Do (from previous events)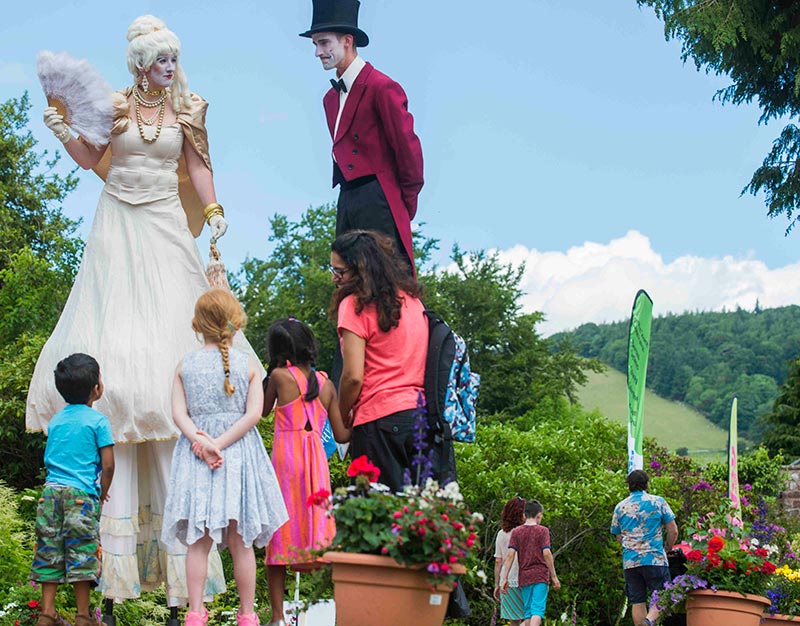 The Orchard
Get your taste buds tingling and enjoy the atmosphere in The Orchard with some of the finest food and drink from across the Borders and Scotland. In a giant stretch tent, Born in the Borders will keep the good cheer flowing with their finest beers, craft gins and will of course be popping a few bottles of festival fizz too! This year's offerings for foodies include a welcome return for Alanda's Seafood Grill with their fresh shellfish and their innovative twist on traditional fish and chips. New this year, Fire Dog Hot Dogs will be serving up their delicious hot dogs and artisan burgers for everyone to enjoy. The Fieldwork Café with their mouth-watering selection of cakes, sandwiches and teas will also be joining us for the first time along with The Crepe Shack with their lovely sweet and savoury crepes.
Regular favourites Crema Caravan from Galashiels will be back this year to tempt everyone into trying their delicious, freshly baked creme brulees. You can also savour a great selection of artisan coffees and scrumptious homemade brownies from Linton & Co. Coffee, served from 'Bernard the Citroen H Van'.
If you're short of time between events, then beer, wine and coffee are all available in Harmony Garden from Born in the Borders Harmony Bar and Charlie Mills Coffee'sconverted horse box. And don't forget to try the mouth-watering selection of ice creams and sorbets served from 'Beatrix' the traditional Over Langshaw Farmhouse ice cream bicycle.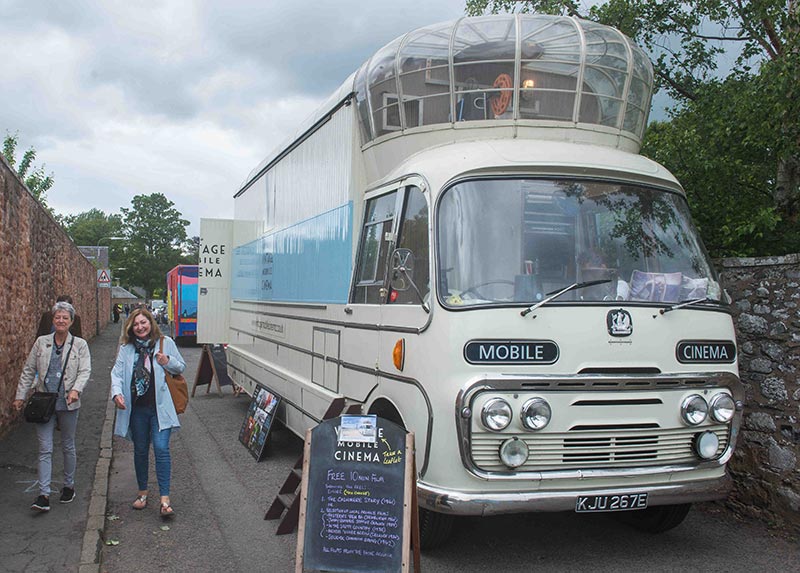 Baillie Gifford Festival Hub
Join us in the Baillie Gifford Festival Hub in Harmony Garden where you will find the festival bookshop and box office. There's lots of space for browsing, buying and book signings and in the corner kids' area, children can sit and read, try some colouring in and take part in some fun activities. The bookshop is open from 10am until late – plenty of time for shopping!
We run our own bookshop and all proceeds go directly back to the festival.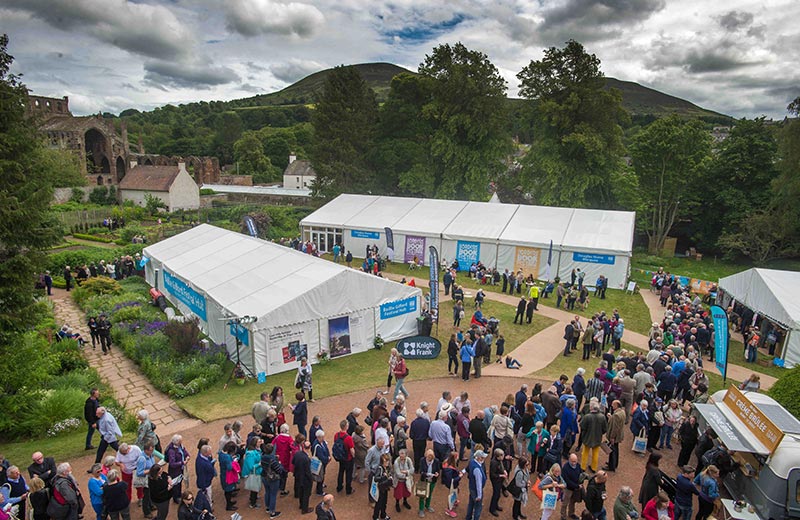 Events & Book Signings
All events last one hour unless otherwise specified, and book signings take place within the festival bookshop.  Please check the board outside the bookshop for signing information.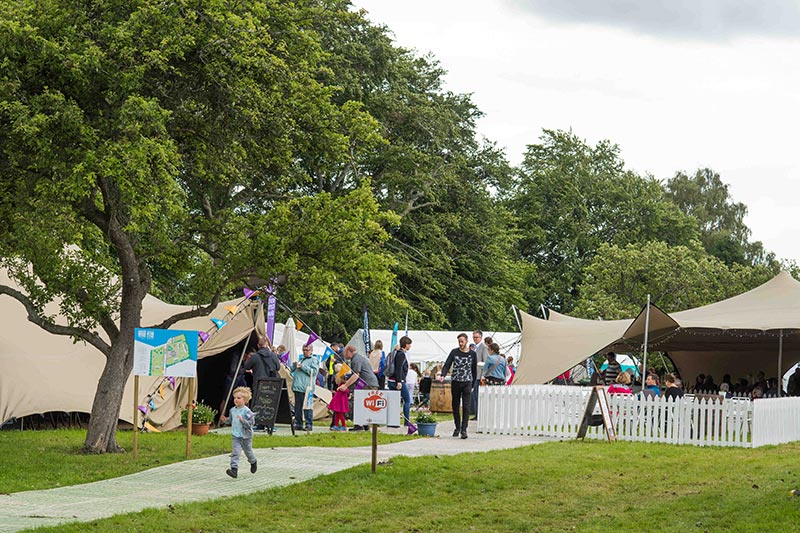 Family Festival
Many of our events and activities don't cost a penny.
Listen to a story at our Storytime events or sing along at our Bookbug rhyme sessions. Head to the Abbotsford Tipi for Knight School activities, help create a book in the Words plus Pictures = Book! drop-in sessions, learn some circus skills with festival favourites, Oli & Co and say hello to our friendly stilt-walkers who will be strolling around all weekend. WOWEE!!
Come and explore the Orchard – a family-friendly space for relaxing, where many of our activities also take place.
All accompanying adults go free!
We're delighted to announce that there is NO ENTRY CHARGE for adults accompanying children to Family Book Festival events.
Please note that all events are ticketed, so remember to put your FREE adult ticket in the basket at the time of booking.
---
event cancelled for 2021
event cancelled for 2021
---